Creative thinking: verder kijken dan je kan zien
In onze podcast 'Café Arté' klinken Stijn Verdickt en Patricia Robinne op de creativiteit. Als drijvende kracht achter Idearté, de creatiefste communicatieclub, kent Patricia als geen ander het belang van creatief denken. De highlights van hun boeiend gesprek vatten we hier alvast voor je samen. Wil je graag het hele verhaal? Beluister dan hier de podcast.
Creativiteit wordt het nieuwe imago. Het maakt jouw bedrijf uniek en is na leiderschap de belangrijkste groeifactor.
"Als ik mag dromen, komt er een vak 'creativiteit' op elk niveau in elke onderwijsrichting", begint Patricia. "Want om met z'n allen naar een mooiere en duurzamere wereld te evolueren, hebben we meer kritisch denkende creatievelingen nodig. Mensen die vanuit verschillende perspectieven naar uitdagingen kijken. En zich laten inspireren tot vernieuwende oplossingen."
Volgens Patricia is er een logische evolutie: "In de oudheid en de middeleeuwen was creativiteit enkel voorbestemd voor goden. Later, in de postmoderniteit gingen mensen er zelf al bewuster mee om. Vandaag leven we in een andere samenleving, waarin creativiteit duidelijk aanwezig is als een multidimensionaal concept met verschillende interessegebieden. Zowat elke bedrijfsstudie verbindt creativiteit met innovatie en concurrentievermogen. Na leiderschap is het zelfs de belangrijkste groeifactor."
Hoe Patricia creativiteit persoonlijk ervaart? "Of het nu in woord, beeld of klank is … creativiteit raakt je en kan zelfs confronterend werken. Dat maakt het ook zo verslavend. Je komt terecht in een andere wereld die je de hoogste vorm van geluk doet ervaren en je nieuwe inzichten geeft. Bovendien creëer je altijd een maatschappelijke meerwaarde als je zaken op een vernieuwende manier benadert. Dat kan zowel letterlijk als figuurlijk verrijkend werken."
Creative thinking in brainstorms
Creatieve brainstorms zijn het stokpaardje van Patricia. Daaruit haalt elke sector zijn voordeel: "Van diensten tot productie, profit tot sociale onderneming, klein- tot grootschalig … Een 'creative thinking'-sessie is relevant voor elk bedrijf en elke organisatie. Om mooie resultaten te behalen, gelden er wel enkele voorwaarden. Zo stem je de mix van deelnemers bijvoorbeeld af op de doelstelling van de brainstorm. Dat kunnen leeftijdsgenoten uit verschillende regio's zijn met verschillende opleidingen en uit verschillende sociale lagen, maar evengoed een groep van domeinspecialisten die met kunstenaars in gesprek gaan. Er ligt maar één ding vast bij elke brainstorm: alle ideeën zijn heel erg welkom en geen enkel idee wordt tijdens de sessie be- of veroordeeld."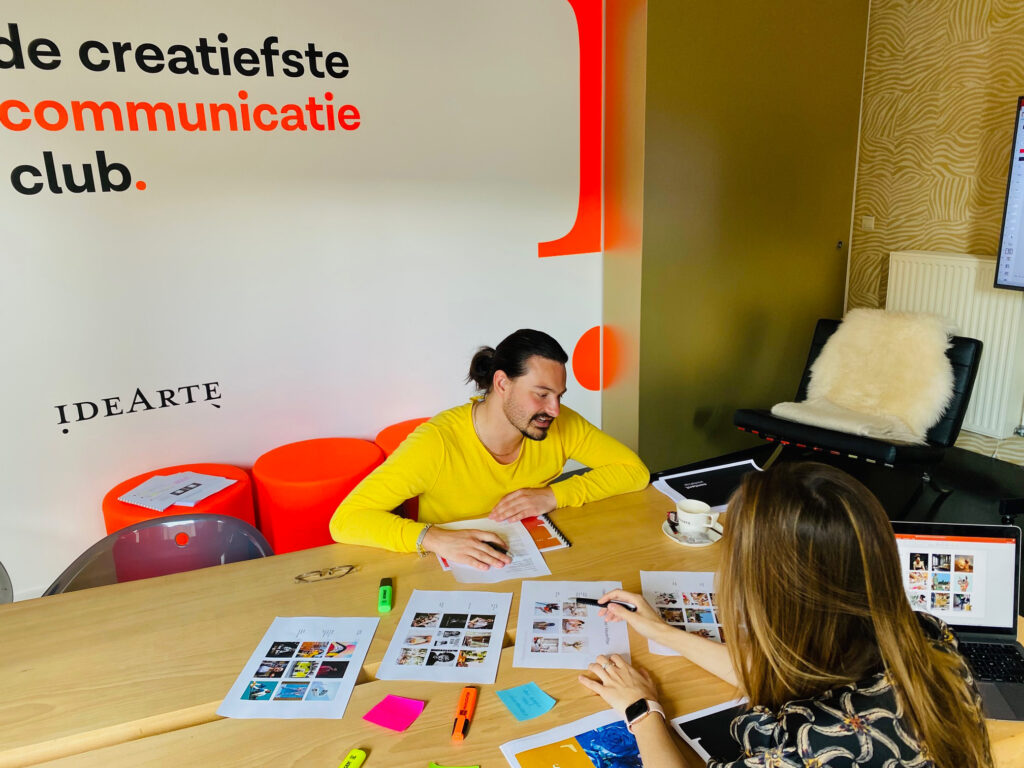 Om zowel doorwinterde creatievelingen als minder out of the box denkende deelnemers originele ideeën te laten spuien, heeft Patricia enkel truken achter de hand: "Ik begeleid de deelnemers door hen associaties en dissociaties te laten maken, ik moedig hen aan om grenzeloos te fantaseren, om actief nieuwe perspectieven op te zoeken … Alles wat nodig is om bijvoorbeeld een branding te hervormen, een duurzaamheidsvraagstuk aan te pakken of een productieprobleem op te lossen. Omdat ik een beproefde methode volg, komen er altijd concrete ideeën boven water. Aan 'creawashing' doe ik niet mee. Want je creatiever voordoen dan je bent, helpt niemand vooruit."
9 dilemma's in creatieve communicatie
In een snelle vragenronde werpen we Patricia een aantal stevige dilemma's toe. Past creativiteit in een 'of … of …'-verhaal? Je ontdekt het in Patricia's keuzes.
Offline of online?
"Creative thinking is uniek aan de mens en doe je live, en dus offline. Je kan achteraf natuurlijk wel een vertaalslag naar de online wereld maken."
Tekst of beeld?
"Ik denk in beelden. Ze laten je makkelijker fantaseren en zijn ook inclusiever. Bovendien leven we vandaag in een beeldcultuur."
Ensceneren of retoucheren?
"In onze toegepaste kunst geldt 'eerst denken, dan doen'. Zo bereik je een beter resultaat. Maar spontane creativiteit kan wel mooie gelukstreffers opleveren."
Kunstonderwijs of zelfstudie?
"Kunstonderwijs geeft je de tijd om te leren en introduceert je in de academische wereld. Het biedt dus een waardevolle basis. Anderzijds vraagt creativiteit levenslange zelfstudie."
Traditie of vernieuwing?
"Creatievelingen bekijken alles altijd vanuit een nieuw perspectief en creëren zelf pure vernieuwing. Maar traditie en vakmanschap blijven wel inspireren."
Solo of team?
"In de kunst van het communiceren is een team van sterke individuen een echte verrijking. Tijdens creative thinking doe je dankzij anderen ook nieuwe inzichten op."
Stilte of achtergrondmuziek?
"Stilte maakt plaats voor inspiratie. Maar muziek helpt me om in m'n eigen wereldje te kruipen. Ook op die manier borrelen de ideeën op."
Zwart-wit of kleur?
"Ik hou van 'less is more'. Tegelijkertijd kan ik me uren verdiepen in de emoties en betekenissen die kleuren oproepen."
Aangeboren of training?
"Niet iedereen heeft aanleg voor creativiteit. Door open te staan voor creatief denken, word je er wel beter in. Heel wat mensen hebben mij al weten verrassen op dat vlak."  
Co-arté: denk en creëer mee in ons testpanel
Co-creatie met verschillende doelgroepen is de enige manier om creatief en écht inclusief te communiceren. Wil jij dankzij een begeleide 'creative thinking'-aanpak graag meedenken en oordelen over communicatie? Meld je dan aan voor ons brainstorm- of testpanel.
Ook interesse in een creatieve brainstorm?